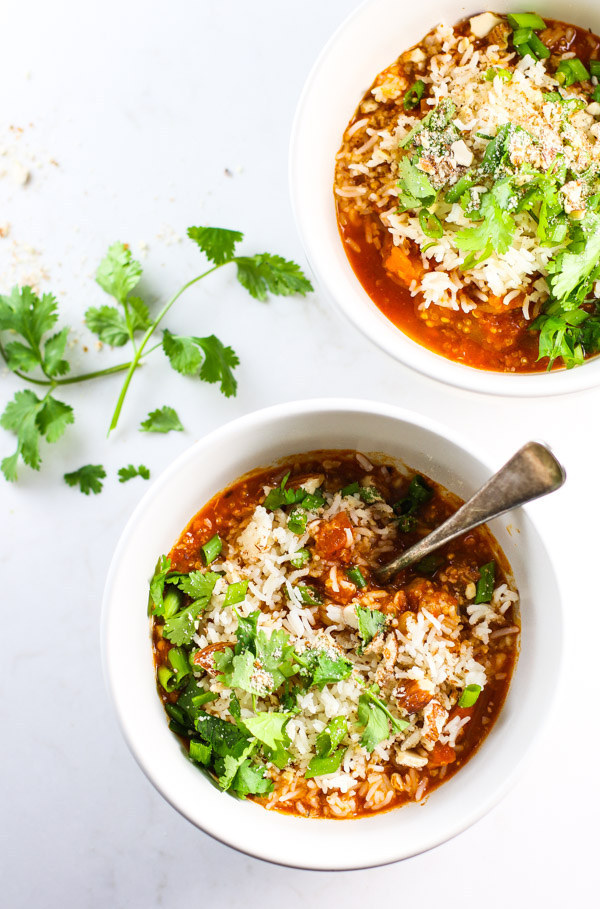 Healthy Quinoa Chicken Curry Bowls

INGREDIENTS
1 tablespoons olive oil
1 cup diced onions
1 lbs. boneless skinless chicken thighs (breasts are also good)
2 tablespoons curry paste
2 teaspoons garam masala (cumin or roasted coriander are also good)
1 tablespoon ginger paste
3 cloves garlic
2 cups tomato puree
2 cups chicken broth
3 cups diced eggplant (peel removed)
3 cups diced fresh tomatoes
1 cup uncooked quinoa
toppings: crushed almonds, rice, noodles, cilantro, green onions, almond butter
INSTRUCTIONS
Heat the olive oil in a deep pan over medium high heat. Add the onions and saute for 2-3 minutes until soft and fragrant. Add the chicken, curry paste, garam masala, ginger, and garlic. Stir fry for another 3-5 minutes to get the chicken pieces browned.
Add the tomato puree, broth, eggplant, tomatoes, and quinoa. Cover and smmer for 15-20 minutes (check the quinoa package for cook time - mine was a sprouted quinoa that cooked in 15 minutes). When it's done, it will look like the picture above - sort of like a stew.
When the chicken and quinoa are both cooked through, serve in big bowls topped with ALL THE THINGS. We like rice, cilantro, green onions, and crushed almonds for crunch.
NOTES
Slow cooker variation: dump everything in the slow cooker and cook on high for 4 hours or low for 6-8. Also delicious!