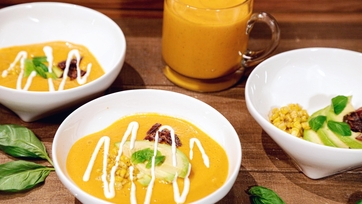 PICTURE PERFECT TOMATO SOUP
3-4 cloves garlic (whole, with the skin on)
3 pounds beefsteak tomatoes (cores removed, cut into quarters)
3 tablespoons butter (plus 1 tablespoon)
1 yellow onion (roughly chopped)
1 leek (cleaned well, cut in half lengthwise, thinly sliced)
2 medium-sized carrots (peeled, cut in half lengthwise, thinly sliced)
2 tablespoons tomato paste
pinch chili flakes (to taste)
kosher salt and freshly ground black pepper (to taste)
1 avocado (pitted and thinly sliced)
1 cup bacon (cooked and chopped)
1 cup Mexican crema (thinned out with a little cream or milk)
kosher salt and freshly ground black pepper (to taste)
Line a baking sheet with aluminum foil. Add the tomatoes and garlic cloves, coat with olive oil, season with salt and pepper, and toss to evenly coat. Roast tomatoes until tender and slightly caramelized, about 30 minutes.
In a large heavy-bottomed pot, add butter and place over medium-high heat. Add the onion, leeks and carrots and season with a pinch of chili flakes, salt and pepper. Sauté until vegetables are translucent and tender, about 5 minutes. Add the thyme and tomato paste. Stir to coat vegetables and cook for 1 minute. Add the roasted tomatoes, peeled roasted garlic, vegetable stock, vinegar, sugar and season with salt and pepper. Stir to combine. Bring to a simmer. Cover and cook for 30 minutes. Remove from heat.
Blend the soup and return to pot to keep warm. Add cream and stir to combine. Season to taste.
To serve, place a few slices of avocado in the bottom of a shallow bowl. Squeeze a little lemon juice over the avocado and season with salt. Top with a pretty composition of corn kernels, crumbled bacon and petite basil leaves. Transfer hot tomato soup to a carafe.
Pour some soup around the garnish. Top with a drizzle of crema.
For the Corn Kernels: place a medium sauté pan over medium heat and add butter. Once melted, add the corn kernels, season with salt and pepper, and sauté for 3 minutes.
- Take a picture while someone begins to pour the tomato soup around the garnish.
- Put the crema in a squeeze bottle and use to make a beautiful design.