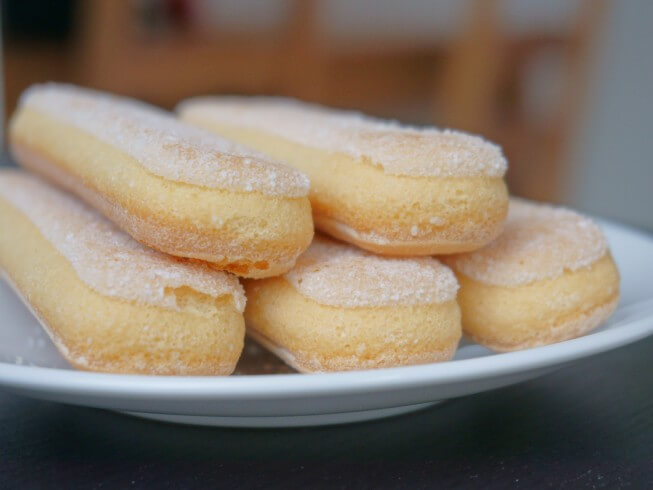 LADY FINGERS ALSO CALLED SAVOIARDI BISCUITS

ingredients
2/3 cup all-purpose flour
1 pinch salt
4 eggs, separated
1/2 cup sugar
1/2 teaspoon vanilla extract
confectioners' sugar for sprinkling
directions
Preheat oven to 300 degrees F. Grease baking sheets, then coat lightly with flour, shake off the excess.

Sift the flour and salt together two times.

With an electric mixer, beat the egg yolks with half of the sugar until thick enough to leave a ribbon trail when the beaters are lifted.

In another bowl, beat the egg whites until stiff. Beat in the remaining sugar until glossy.

Sift the flour over the yolks and spoon a large dollop of egg whites over flour. Carefully fold in with a large spatula, adding the vanilla. Gently fold in the remaining whites.

Spoon the mixture into a pastry bag fitted with a plain nozzle. Pipe 4" long lines on the prepared baking sheets about 1" apart. Sift over a layer of confectioners' sugar. Turn the sheet upside down to shake off any excess sugar.

Bake for about 20 minutes, until crusty on the outside but soft in the center. Cool slightly on the baking sheets before transferring to a wire rack.