National Anthem
O. Land of the Free by the Carib Sea,
Our manhood we pledge to thy liberty!
No tyrants here linger, despots must flee
This tranquil haven of democracy
The blood of our sires which hallows the sod,
Brought freedom from slavery oppression's rod,
By the might of truth and the grace of God,
No longer shall we be hewers of wood.
Arise! ye sons of the Baymen's clan,
Put on your armour, clear the land!
Drive back the tyrants, let despots flee -
Land of the Free by the Carib Sea!
Nature has blessed thee with wealth untold,
O'er mountains and valleys where prairies roll;
Our fathers, the Baymen, valiant and bold
Drove back the invader; this heritage hold
From proud Rio Hondo to old Sarstoon,
Through coral isle, over blue lagoon;
Keep watch with the angels, the stars and moon;
For freedom comes tomorrow's noon.
ALL ABOUT BELIZE
Geography
Belize is situated on the Caribbean Sea, south of Mexico and east and north of Guatemala in Central America. In area, it is about the size of New Hampshire. Most of the country is heavily forested with various hardwoods. Mangrove swamps and cays along the coast give way to hills and mountains in the interior. The highest point is Victoria Peak, 3,681 ft (1,122 m).
Government
Parliamentary democracy within the British Commonwealth.
History
The Mayan civilization spread into the area of Belize between 1500
B.C.
and
A.D.
300 and flourished until about 1200. Several major archaeological sites—notably Caracol, Lamanai, Lubaantun, Altun Ha, and Xunantunich—reflect the advanced civilization and much denser population of that period. European contact began in 1502 when Columbus sailed along the coast. The first recorded European settlement was begun by shipwrecked English seamen in 1638. Over the next 150 years, more English settlements were established. This period was also marked by piracy, indiscriminate logging, and sporadic attacks by Indians and neighboring Spanish settlements. Both Spain and Britain lay claim to the land until Britain defeated the Spanish in the battle of St. George's Cay (1798). It became a colony of Great Britain in 1840, known as British Honduras, and a Crown colony in 1862. Full internal self-government was granted in Jan. 1964. In 1973, the country changed its name to Belize.
Belize became independent on Sept. 21, 1981. But Guatemala, which had made claims on the territory since the 1800s, refused to recognize it. British troops remained in the country to defend it. Although the dispute between Guatemala and Great Britain remained unresolved, Guatemala recognized Belize's sovereignty in Sept. 1991. Guatemala, however, still claims more than half of Belize's territory.
Prime Minister Said Musa was reelected to a second term in 2003. Musa promised to improve conditions to the largely underdeveloped, southern part of Belize.
New Prime Minister Elected Amid Unrest
Tax increases in 2005 led to unrest and anger with the People's United Party government. This led to a shift in the next election. In the 2008 parliamentary elections, the United Democratic Party won 57% of the vote (25 of 31 seats) and the People's United Party 41% (6 seats). Turnout was 74.5%. Dean Barrow was sworn in as prime minister on February 8. On February 11 he announced his cabinet, which included himself as finance minister, Wilfred Elrington as foreign minister, and Carlos Perdomo as minister of national security.
Controversial Telecom Battle Comes to a Head
Shortly after assuming office, Dean Barrow exposed his predecessor's government, saying that former Prime Minister Musa had a secret agreement with Belize Telecommunications, which later became Telemedia. That agreement included limiting competitors and making up for any company losses. Once in office, Barrow tried to rework the tax clauses with Telemedia. When Telemedia refused to compromise, Barrow got the courts to order the company to make tax payments. Telemedia responded by getting parliament to nationalized the in 2009. On June 24, 2011, Belize's Court of Appeal ruled that the Telemedia nationalization was unconstitutional, which ended the company's telecommunicating dominance in the country.
Second Term for the Government of Dean Barrow
Belizean Teachers Demonstration 2016
The BNTU is the most powerful and organized union in the country, and on Monday, September 19, 2016 in the capital, Belmopan, they surely showed their strength and their anger at the Barrow Administration - first by shutting down the education system and second by flooding the capital with thousands of protesters.
Walking in double lines, the teachers took their demands and chants to the Civic Center where the over 6,000 teachers crowded the area with their posters in hand.
BNTU Rep - Toledo Rural
"We as the Belize National Teachers Union (BNTU) will fight a fight to win. You know what hurts me a lot? In fact, while coming on the bus with our teachers were kinda concerned. They asked me, if I think our pay will get deducted. I asked them, would you prefer sacrifice a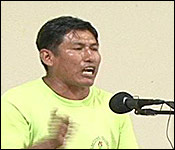 day for your country or do you prefer sacrifice your entire life for your country to still be safe?"
Hon. John Briceno, Leader of the Opposition
"They have every right to demand the raise that was rightfully promise to them. I don't think they were even asking for it, but the Prime Minister in his quest to get a third term, went overboard and made all kinds of promises and he made a promise to the teachers and now he is using an excuse about Hurricane Earl, that it has caused I am told millions of dollars of damages. It is so ironic in this world. They say when you spit up in the air, it falls on your face. That's exactly what is happening to the Prime Minister. Because remember the PUP had 5 storms and hurricanes and whenever we gave the extent of the damage, he was the first one saying that it was being inflated. Now in this case, it was just a category 1 storm or hurricane and he is saying we lost hundreds of millions of dollars. Yet people are not seeing any kind of benefit that he is getting from supposedly the efforts that or his government has been doing."
"Now the teachers are saying we are prepared to sacrifice with you Mr. Prime Minister, but you have to show what you are going to do, what is your sacrifice. He has appointed new ministers with drivers and vehicles and office and support staff. So why should the teachers be asked for them to sacrifice I think around 13 million dollars if the government is showing no intentions of them tightening their belts and making also their sacrifice."